Arts4All Florida coordinates art exhibitions across the state to highlight the work of adult artists with disabilities and youth with disabilities participating in our artist in residence programs. Many of our adult exhibitions are coordinated using a Call for Art and are adjudicated by arts professionals. A selection of virtual exhibitions, some of which also took place live, are included below.
The Healing Art of Nature
An exhibition of paintings and photography by Florida artists with disabilities.


The Healing Art of Nature
Art Exhibition Opening and Labyrinth Walk
When: Saturday May 7, 12 - 3 pm
Where: The Franciscan Center • 3010 N. Perry Ave., Tampa

The Franciscan Center Tampa and Arts4All Florida invite you to experience nature along a swath of the Hillsborough River as you stroll through the labyrinth and walk for World Peace, commemorating "World Labyrinth Day". Learn about local environmental and nature programs, and view the opening of The Healing Art of Nature, an exhibition of paintings and photography by Florida artists with disabilities.
Camouflage and Collaboration
This collaborative exhibition is a partnership between Arts4All Florida, The Frank C. Ortis Art Gallery and Clay County Schools.


Camoflage and Collaboration
"Inspired by the virtual exhibition "Biological Futurism" at the Frank C. Ortis Art Gallery, the students' work reflects on nature and draws from their own personal experiences and instincts. Through collaboration, they created works that are imbued with each of their own individual personalities and sensibilities, much like in an ecosystem where every life contributes to the whole. Students learned about the artistry in biological life, such as how the octopus can blend, and that the moth uses camouflage to survive. Like them, the students used colors and images to reflect their world, yet still show part of themselves. They have learned to not be afraid to evolve messily if necessary, especially when it comes to art."
Art of Wild Florida


Art of Wild Florida Exhibition
Artist in Residence programs in Bay County were a unique opportunity to extend the traditional My Art My Way program. Teaching artist Sandy Olson Hill taught visual art lessons in two classrooms at St. Andrews School in Bay County for six hours over the past few months.
After a live visit, complete with animals, from the Tallahassee Museum" Animal Encounter" team, the Bay County classes were inspired to create their own art. The very talented student artists from St. Andrews School showcase their exhibition inspired by the Tallahassee Museum below.
Exceptional Creativity


Exceptional Creativity
Art inspires us. Art connects us. Art is a universal means of expression regardless of who we are or where we come from. Arts4All Florida, in partnership with the University of North Florida, invites Florida artists of all abilities in creating a more inclusive world through the arts. As we say, creativity knows no bounds. Let your inner voice shine. Be Exceptionally Creative!

"Who Me?" by Lora Duguay
Virtual Closing Reception August 26, 2021
University of North Florida, Lufrano Gallery
Framing with our Eyes: Learning to Look
A Museum Partnership with Arts4All Florida, Godby High School in Leon County and the Florida State University Museum of Fine Arts

Framing with our Eyes: Learning to Look
In the Spring of 2021, Arts4All resident instructor Amy Richard partnered with Annie Booth, Program Coordinator at the Florida State Museum of Fine Arts (MoFA), to participate in the My Art My Way program. Through the program, Sharon Karim's class at Godby High School had the opportunity to create work inspired by a virtual visit to the Museum. Amy and Annie first took the students on a virtual tour of artworks exhibited in MoFA exhibitions Memento Vitae and What It Takes; Amy then lead guided discussions about specific artworks in an effort to "stretch" observation and analytical skills followed by hands-on projects. Students experimented with making imagery using four main processes: drawing, painting, printmaking, and cyanotypes—an early photographic "blueprint" process. The overarching goal of this residency was to work with students to strengthen fine motor (hand) skills as well as observation skills through intentional looking and "focusing" activities while also providing enjoyable experiences with a variety of expressive processes and mediums.

Artwork by Sha'Roya M.
Voices & Visions
The Voices & Visions Exhibition demonstrates our growing partnerships and local community impact with one of Florida's acclaimed galleris, the Alliance for the Arts in Lee County.

Voices & Visions
For 40 years Arts4All Florida has served as the leading resource on access and inclusion in the arts! Creating connections to and through accessible arts has left an indelible mark on the landscape of diversity and inclusion throughout Florida.
"Vision in Braille" by Carol Murphy

The Voices & Visions Exhibition demonstrates our growing partnerships and local community impact with one of Florida's acclaimed galleries, the Alliance for the Arts Lee County. From aspiring artists to accomplished artists of all abilities, this exhibition gives "voice" to our unique and distinctive stories and experiences through the lens of artistic expression.
From high-tech artistic application to mixed media, watercolor, acrylics, and pen and ink, from abstract works to realism and humorous cartoon like pieces, you'll experience the depth of diverse backgrounds and emotions brought to light through these amazing artists and their works of art.
Eyes on Africa

Arts4All Florida, in partnership with Broward County Exceptional Student Learning Support,
Wingate Oaks Center and the
African American Research Library and Cultural Center (AARLC) present the "Eyes on Africa" exhibition.
Eyes on Africa
Over the past few months, teaching artist Niki Lopez took the students on an exploration of colors, patterns and sounds from the motherland - expressed through African-inspired masks and collages via two classes at Wingate Oaks Center.
40 for 40
Celebrating 40 years of Arts4All Florida!
Curated by Susan Baldino, Arts4All Florida Regional Program Coordinator and Sandra Sroka, Adult Programs Coordinator.
Arts4All Florida celebrates its 40th anniversary with the statewide juried exhibition, "Forty 4 Forty."
Artwork is on exhibit at the Florida State Capitol, 22nd Floor Gallery from January 11 through July 31, 2021.
For four decades, Arts4All Florida has provided programs that make it possible for people of all abilities to contribute to the social, cultural, and economic life of Florida. With art instruction, cultural experiences, exhibitions and art shows, online coaching, teacher trainings, and career courses, Arts4All Florida increases artistic expertise, fosters creativity, encourages social skills, imbues confidence, teaches marketable skills, and provides innovative ways of communicating.
Artists featured in this exhibition exemplify the longevity, scope, and impact of Arts4All Florida. The exhibition showcases Arts4All Florida Registry Artists, Teaching Artists, Student Artists, and artists throughout Florida who support the goals and mission of our dynamic organization.
Paperworks!
Poetry-inspired works on paper by the artists of Country Oaks Elementary School, Hendry County, Florida
Curated by Susan Baldino, Arts4All Florida Regional Program Coordinator.
Paperworks!
In just six weeks, the amazing young artists from Country Oaks Elementary School completed five art projects, a poem, and six extended learning assignments.
ESE teacher Cara Austin and her staff collaborated virtually with Arts4All Florida teaching artist, Sandy Hill, to introduce the students to Shel Silverstein's poetry and to engage the students in creative techniques and materials.
The LaBelle Group on Paper
The "LaBelle Group On Paper" is a dazzling display of original works by young artists who gathered together to experiment with the versatility and expressiveness of everyday materials.
Curated by Susan Baldino, Arts4All Florida Regional Program Coordinator.
The LaBelle Group on Paper
Throughout history, artists have shared ideas among their circles of artists, writers, and thinkers. Picasso joined fellow creatives at the famous Café Quatre Gats in Barcelona and later at his Paris studio. English artist Vanessa Bell along with her sister, the writer Virginia Woolf, and other writers, poets, and artists formed the Bloomsbury Group. The poet, T. S. Eliot, found camaraderie in literary friendships in London. These clusters of artists produced some of the most inventive art of their time.
Like those who came before them, the LaBelle artists in ESE teacher Augusta Ross's class engaged in art-making in Hendry County, Florida. They learned how art is connected to historical movements. They explored different media. They practiced techniques of 20th-century luminaries Vanessa Bell, Pablo Picasso, and T.S. Eliot.
The Joy of Art
Throughout history, art has tendered affirming feelings of love, happiness, and hope. This exhibition focuses on these positive emotions during a time of pestilence through the creativity of seven artists that germinates from a "Joy of Art."
The Joy of Art
I invite you to witness the exuberance of Sandra Murphy-Pak's swirling colors; the delight of nature in the photography of the Wheelchair Highwaymen; the splendor of Chris Mendicino's icy blooms; the glee of Megan Holmes Cameron's self-portraits; the rapture seen in Pariswinkle's characters; the majesty of nature painted by Adorable Monique; and the enchantment of Madison Hongyee's vision.
The work in this exhibition brings to mind words written by Vincent Van Gogh to his brother Theo in 1888 as he expressed his ideas about using color, " I am always in hope of making a discovery . . . to express the love of two lovers . . . by the mysterious vibrations of kindred tones. To express hope by some star, the eagerness of a soul by a sunset radiance. Certainly there is no delusive realism in that, but isn't it something that actually exists?"
As Van Gogh did more than 130 years ago, the artists here signal hope for our world through the joy of art.   ---Susan Baldino, Curator
We All Need Each Other
May 1 - June 30, 2020
Florida students express wonder, connection isolation...
Curated by Susan Baldino, Arts4All Florida Regional Program Coordinator.
We All Need Each Other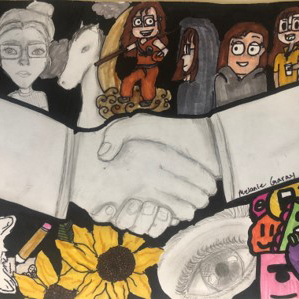 The works displayed here represent creative talents of students of all abilities from across the State of Florida. These young artists answered our call for art that emphasizes essential relationships and that reflects diversity and inclusion. Enjoy these perceptions of aspiring artists. Their work brings into focus our vision to create a world in which arts are universally accessible.
Experience in the Surreal - Hamilton County
A collection of artwork from students at Hamilton County Elementary and Hamilton County High School who learned about the surrealism of Joan Miro with teaching artist,  Anna Waddell.
Teaching Artist, Anna Waddell led the students of Hamilton County Elementary and Hamilton County High School, in visual art lessons this last school year. They explored many subjects and techniques, with one being Surrealism. The surrealist artist, Joan Miro's work lends itself with its' playful shapes and colors to artwork that can be appreciated by all ages.
To emulate Miro's work, the students began with painting various colors on a thick paper. These allowed the young artists to enjoy the medium with the color, flow and texture of the paint. In the next session with the paint now dry, the students added crayon with shapes, lines and colors, not meant to be identifiable objects, but just abstract images. They produced work that was in the spirit of Miro, learning new techniques and appreciating that they can be artists of the abstract too.
Each piece of art was unique with the two varying textures creating wonderful juxtapositions. The students made two pieces of art, one to keep and one to share, which will be on display at various Heart of Florida Health Centers throughout Marion County.
How do you inspire young artists to create a unique and personal piece of art? Well that was the mission of Teaching Artist, Audrey Short, as she led the students of Dixie M. Hollins High School to make art that was influenced by The James Museum of Western & Wildlife Art.
The Future is Art
Arts4All Florida Celebrates Emerging Careers
June 15 – September 1, 2020
Curated by Dee Miller and Susan Baldino
Arts4All Florida is delighted to present this exhibition that highlights our career arts programs for aspiring visual artists. The purpose  of these 12-hour professional courses is to build career and workforce skills through innovative artmaking and practical applications. High school students and young adults from across Florida have participated. The artists represented here hail from the Miami Youth Academy, Lake County's Leesburg High School, and the Florida State University Center for Autism and Related Disabilities (FSU CARD).