Arts4All Florida coordinates art exhibitions across the state to highlight the work of adult artists with disabilities and youth with disabilities participating in our artist in residence programs. Many of our adult exhibitions are coordinated using a Call for Art and are adjudicated by arts professionals. A selection of virtual exhibitions, some of which also took place live, are included below.
We All Need Each Other
May 1 - June 30, 2020
Florida students express wonder, connection isolation...
Curated by Susan Baldino, Arts4All Florida Regional Program Coordinator.
We All Need Each Other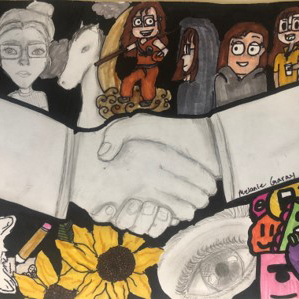 The works displayed here represent creative talents of students of all abilities from across the State of Florida. These young artists answered our call for art that emphasizes essential relationships and that reflects diversity and inclusion. Enjoy these perceptions of aspiring artists. Their work brings into focus our vision to create a world in which arts are universally accessible.
Experience in the Surreal - Hamilton County
A collection of artwork from students at Hamilton County Elementary and Hamilton County High School who learned about the surrealism of Joan Miro with teaching artist,  Anna Waddell.
Teaching Artist, Anna Waddell led the students of Hamilton County Elementary and Hamilton County High School, in visual art lessons this last school year. They explored many subjects and techniques, with one being Surrealism. The surrealist artist, Joan Miro's work lends itself with its' playful shapes and colors to artwork that can be appreciated by all ages.
To emulate Miro's work, the students began with painting various colors on a thick paper. These allowed the young artists to enjoy the medium with the color, flow and texture of the paint. In the next session with the paint now dry, the students added crayon with shapes, lines and colors, not meant to be identifiable objects, but just abstract images. They produced work that was in the spirit of Miro, learning new techniques and appreciating that they can be artists of the abstract too.
Each piece of art was unique with the two varying textures creating wonderful juxtapositions. The students made two pieces of art, one to keep and one to share, which will be on display at various Heart of Florida Health Centers throughout Marion County.
How do you inspire young artists to create a unique and personal piece of art? Well that was the mission of Teaching Artist, Audrey Short, as she led the students of Dixie M. Hollins High School to make art that was influenced by The James Museum of Western & Wildlife Art.
The Future is Art
Arts4All Florida Celebrates Emerging Careers
June 15 – September 1, 2020
Curated by Dee Miller and Susan Baldino
Arts4All Florida is delighted to present this exhibition that highlights our career arts programs for aspiring visual artists. The purpose  of these 12-hour professional courses is to build career and workforce skills through innovative artmaking and practical applications. High school students and young adults from across Florida have participated. The artists represented here hail from the Miami Youth Academy, Lake County's Leesburg High School, and the Florida State University Center for Autism and Related Disabilities (FSU CARD).